---
Experience Unmatched Comfort and Performance with Our Ladies Golf Shoes
Welcome to Click Golf, where we're dedicated to offering the finest ladies golf shoes to elevate your game and style on the fairway. Our collection of ladies golf shoes blends form and function seamlessly, catering to golfers who appreciate performance and aesthetics.
Ladies golf shoes are more than just footwear; they are a vital part of your golfing equipment. Our range of golf shoes is meticulously designed to provide the support and stability you need while ensuring you're at the forefront of fashion.
Our ladies golf shoes feature cutting-edge technology, offering exceptional comfort and traction to enhance your swing and maintain peak performance during your rounds. From traditional designs to modern, sporty styles, our ladies golf shoes come in a variety of options to suit your preferences.
We understand that every golfer is unique, which is why we offer a diverse range of ladies golf shoes. Whether you're seeking timeless classics or contemporary designs, we have the perfect pair of ladies golf shoes to match your taste and keep you comfortable through all 18 holes.
Invest in your game and step onto the course with confidence in our ladies golf shoes. Shop now to experience the blend of fashion and function that sets our golf footwear apart, helping you perform at your best while looking your finest. Elevate your golf game today with our premium ladies golf shoes.
FootJoy Ladies Golf Shoes
FootJoy has designed a brilliant range of ladies golf shoes such as the Flex Womens golf shoes offer exceptional versatility on and off the course with incredible performance.
Experience incredible traction and performance on course with the off course versatility of a trainer. Made using lightweight breathable mesh and rubber design, they also feature Performa Sport Last that offers a full rounded toe character, fuller fit across forefoot, narrow fit in heel with added toe spring.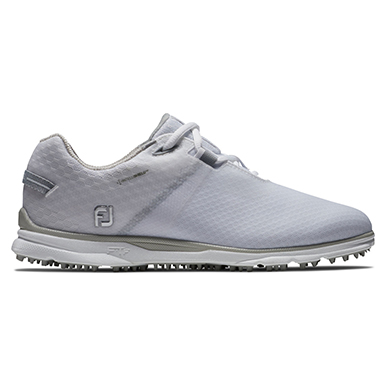 ---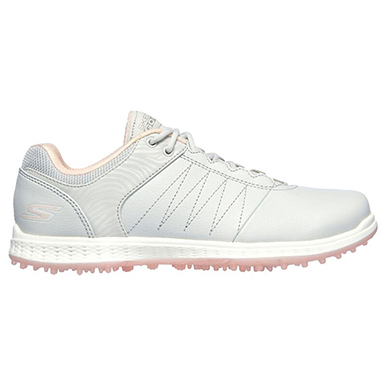 Skechers Ladies Golf Shoes
Skechers are some of the most comfortable shoes any golfer can wear, which makes it incredible easy to walk a full 18 hole golf course without having to worry about any aches or pains while doing so.
Skechers is also known for designing brilliant shoes for women golfers, such as the Skechers Go Golf Pivot womens golf shoes that provide female golfers with a pair of shoes that allow for incredible comfort while on the golf course as well as managing to keep their feet cool and dry in wetter conditions on the golf course.
By using Skechers lightweight and responsive ULTRA Go cushioning and pairing it with the high-rebound Goga Max cushioned insole these golf shoes provide women golfers with an incredibly comfortable option for walking the golf course to keep your knees and feet ache free after a long day of golf.
---
Ladies Waterproof Golf Shoes
Waterproof golf shoes are incredibly useful to wear in the UK because of how quickly the weather can change and so if you are caught in a sudden downpour of rain your feet will be able to remain warm and dry.
While these shoes are perfect for playing in rainy conditions, it is also useful to have waterproof golf shoes while playing on damp or slightly wet golf turf during early morning rounds of golf.
There are a number of ladies golf shoes that have been designed to offer greater waterproof protection so that female golfers can play in wet conditions without having to worry about any water damage or their feet becoming soaked.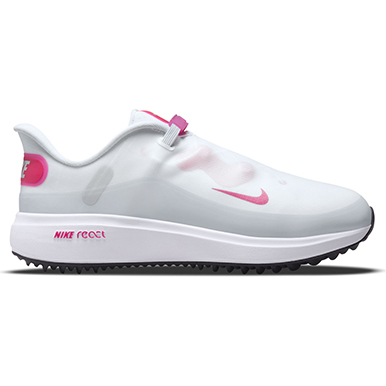 ---
Golf shoes such as the FootJoy Womes Pro SL Golf Shoes have been designed with waterproofing in mind and so use premium chromoskin leather to provide an incredibly soft feel, while also providing 100% waterproof protection. This means that you can play in a pair of incredibly comfortable golf shoes while also not having to worry about any changes in weather conditions.
---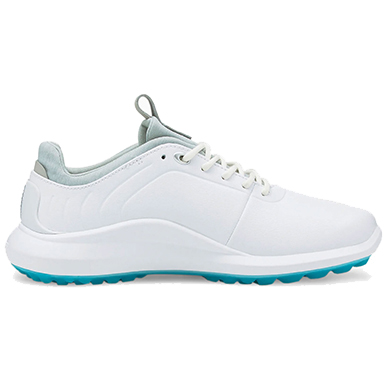 Ladies Golf Shoes Sale
At Click Golf you can find a perfect pair of ladies golf shoes for incredibly low prices so that you can enjoy some of the best engineering and innovative designs from the biggest brands in golf.
---
There are an amazing selection of waterproof golf shoes that have been designed by brands such as Nike, adidas, FootJoy and more that are all available for low prices at Click Golf. Browse yours now and take advantage of our lowest price promise, super fast delivery and no quibble returns policy.
Ladies golf shoes are specially designed golf shoes for women that provide comfort, support, and style on the golf course. They come in a variety of styles, colors, and sizes to fit women's feet and accommodate their specific needs.
The most common types of ladies golf shoes are spiked and spikeless. Spiked shoes provide excellent traction on the course, while spikeless shoes are more versatile and can be worn off the course as well. Both options provide the necessary support and stability for women golfers during their swings and while walking the course.
Ladies golf shoes are also available in a range of materials, including leather, synthetic materials, and breathable mesh. Some shoes also offer waterproofing, which is particularly important for women who may be playing in wet or rainy conditions.
In terms of style, ladies golf shoes come in a range of designs and colors, from classic white or black to more vibrant and eye-catching options. Some shoes also feature additional decorative details such as bows or glitter to add a touch of femininity.
When choosing ladies golf shoes, it's important to consider factors like fit, comfort, support, and traction. A properly fitting shoe can make all the difference in comfort and performance on the course. Additionally, women should look for shoes that provide adequate arch and heel support, as well as good grip for stability during the swing.
Overall, ladies golf shoes provide women golfers with the support, comfort, and style they need to perform their best on the course. With a range of styles, colors, and features available, there's a ladies golf shoe to suit every golfer's needs and preferences.