Golf Wedges
---
Golf Wedges at Click Golf
Sorry, no products were found matching your criteria.
At Click Golf we offer a great range of wedges available from some of the biggest and best golf brands in the world, such as Ping, Callaway, Vokey by Titleist, TaylorMade, Cleveland, Cobra, Mizuno and Wilson Staff. There are a number of golf wedges on the market which provide incredible control and performance anywhere around the green so that you can easily launch the golf ball up and land perfect for an opportunity to sink that winning putt. Golf wedges are available in a wide range of lofts to cater for all ground conditions and play situations. Golf wedges lofts range from 45 to 64 degrees to allow golfers to choose how far they want to be able to launch the golf ball and whether or not they want it to land and roll or come to a sudden stop. The different lofts, and gaps between the grooves on each club face, can allow for different types of shots to be made when approaching the green. There are golf wedges that are perfect for flop shots that instantly go up and back down, or wedges that need a little more distance so force the ball further.
---
Lob Wedge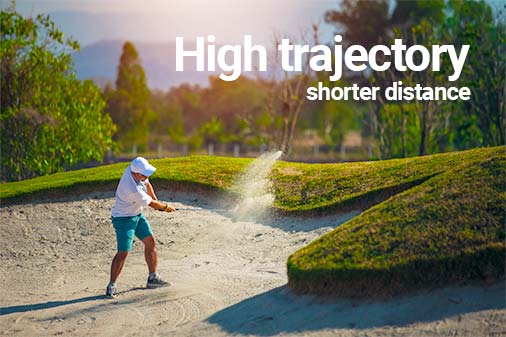 Lob Wedge
A lob wedge is a golf club that can allow golfers to create a brilliant shot onto the green so that your golf ball is set up perfectly for an easy putt. This club is best suited for when your golf ball is already quite close to the greens as it allows for much more height and spin on the ball.
This performance means that you can easily create a flop shot that can get over tall lips approaching the greens but have enough spin to allow the golf ball to come to an immediate stop and avoid rolling further from the hole.
A fantastic option for a lob wedge is the Ping Glide Forged Pro Wedges which allows golfers to create a brilliant connection with the golf ball for the maximum spin possible.
Sand Wedge
The Sand Wedge is probably the only golf club that tells you exactly where it will perform best, but as the name suggests a Sand Wedge is the perfect golf club for when your golf ball has found its way into a bunker.
There are varying sand wedge lofts that allow golfers to have a golf club that will be able to make a brilliant connection with the golf ball while avoiding digging into the sand and creating a shot that isn't able to carry the ball onto the green.
A perfect golf club for this situation is the Cleveland CBX Golf Wedge which provides the performance and loft needed while having the sole shape for greater connection with the sand so that when using Cleveland Wedges there's minimal risk of digging into the sand.
Sand Wedge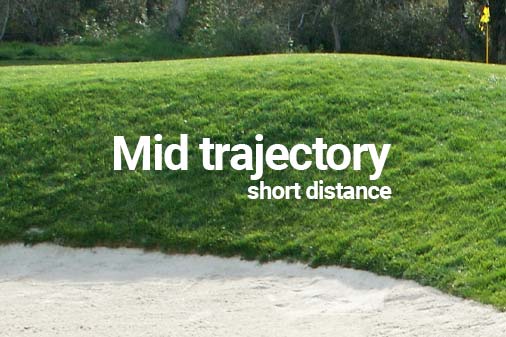 Gap Wedge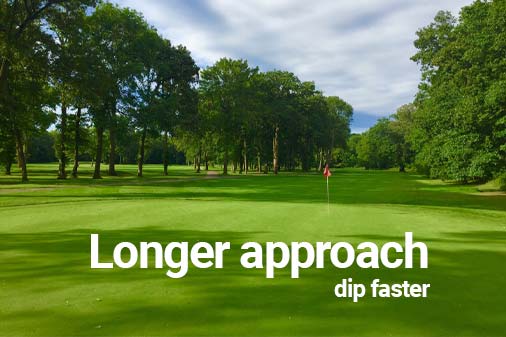 Gap Wedge
The Gap wedge, which you might hear people calling an attack wedge or utility wedge, tends to have a clubhead that has an angle of 50 to 53 degrees. This wedge is suited for shots that require distance for longer approach shots to the green but also needs to be able to force the golf ball to dip faster than what a pitching wedge can offer. Great for a variety of shots played near the green that doesn't require a full swing or longer chip.
The Titleist SM9 Vokey Wedge is the perfect golf club for golfers who are looking for a brilliant performance on the golf course. A great selection of grinds on the sole of the golf club allows for greater interaction with the grass and sand while also having a club face that creates greater contact with the golf ball.
TaylorMade Wedge
TaylorMade is known for making great wedges that help you hit the ball higher and spin it more, making it easier to get out of rough turf and place your shots on the green.
A TaylorMade such as the TaylorMade Milled Grind 4 offers golfers maximum spin of the golf ball thanks to the micro-rib face that features a more textured surface to create enough spin and precision on pitch shots and full shots to the green.
Callaway Wedge
This Callaway Wedge has been created so that golfers have the confidence and control for all types of wedge shots. The Callaway Jaws golf wedge has been designed to improve your shots from chips, flops, pitches, bunkers short and full shorts onto the greens. This wedge is also built to perform on mid and full-wedge shots with fantastic turf interaction.
Mizuno Wedge
As a manufacturer of golf clubs, Mizuno is known for making some of the very best with expert crafting techniques and engineering that allow golfers to create incredible shots approaching the greens.
The Mizuno T22 wedges are some of the best golf wedges available because of how much spin can be created off the face of the club. This golf club allows golfers to play with the confidence that when the golf ball makes contact with the surface of the green its less likely to roll away from a potential easy putting position.
Cobra Wedges
Cobra Golf's King Snakebite Satin Wedges are a nostalgic throwback to the rich history and evolution of Cobra Golf.
The snakebite groove design that has been used provides sharper, deeper grooves and a traditional, full face length, have been included in the design of this golf club to maximise your spin and produce a 'bite' around the greens.
Sort & Filter
43 products
X